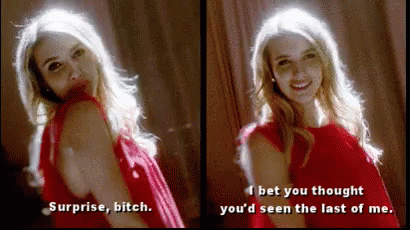 Popgirl is now a monthly roundup series sharing all the #content I experience and my subsequent thoughts on said content.
Buttered
*Rachael Ray voice* Delish!
A Simple Favor (2018)
In case you didn't know, I love Anna Kendrick. On an unrelated note, I believe that Paul Feig's film adaption of A Simple Favor is a shining example of why Anna Kendrick should play the lead role in every movie. After all, it's just acting, and she's really good at it.
Atypical (S2)
While I'd love to see this show give more voice to all types of kids on the spectrum, Atypical delivered a delightful sophomore season. Keir Gilchrist, Brigette Lundy-Paine and Nik Dodani continue to shine.
Making It (NBC)
Listen, crafting is fun. Amy Poehler and Nick Offerman are fun. Low-stakes reality TV competition shows are FUN!
China Rich Girlfriend
Described as wickedly funny, the second book in Kevin Kwan's dishy Crazy Rich Asians trilogy delivers high drama at every turn. I personally can't wait to see Constance Wu on a Parisian shopping spree.
ER (Season 5-7)
Old news, but did you guys know ER is… great TV? Some might even call it "Grey's Anatomy But With Average Looking People Minus Goran Višnjić AKA Dr. Kovac AKA the Real Dr. McDreamy"… but that's just some people.
The 'Bridesmaid Font'
"The Goods" by Vox explains the brush-style font phenomenon and the reasons why this typeface is trending.
"At some point, perhaps, bouncy, ultra-feminine scripts will become so ubiquitous that they'll cease to represent the personal affection and individualism that they do now. But that time has not come." – Eliza Brooke
Jen Gotch is OK… Sometimes
Aside from being OK, Jen Gotch is an excellent trash dancer, bi fash icon, and the founder and CCO at ban.do (an "all things fun" lifestyle brand). Her mental health podcast covers a little bit of everything and I highly recommend you give it a listen. I've linked my favorite episode so far:
Burnt
Everything is on fire.
Parenting Dramedies Not Produced by Ron Howard
I can't be too critical but also I did watch the pilot episode(s) of a handful of new fall sitcoms exploring the ups and downs of parenthood and they have A LOT of downs. While Leighton Meester is a gift in Single Parents, she and Brad Garrett are the only standouts in an otherwise lackluster half hour. Aptly titled, I Feel Bad made me experience a roller coaster of negative emotions.
Roasted Chickpeas
In a moment of temporary insanity, I bought a bag of chickpeas on a recent grocery store run. Zero stars. Do not recommend.
Pop of the Month
I know I came in pretty hot with my ER review above, so it feels a little silly to name Grey's Anatomy showrunner Shonda Rhimes here. However, it is well-deserved. Rhimes was a keynote at the annual INBOUND conference I had the fortune to attend this year. Niswey has a great breakdown of the keynote interview's high points.